Hand Sanitizer Cover
Description:
1.Assortedcolor,100% Silicone material
2.Includesa hand gel sanitizer and a silicone sanitizer case
3.Anti-bacterialhand cleanser ideal for both indoor and outdoor use
4.Adjustablestrap that you could tie on your bag or purse
5.OEM is available.
Feature:
1.It's made of 100% silicone, which is non-toxic, eco-friendly, anti-dust, andeasy to carry and clean.
2.Good flexibility to protect your bottle from breaking, scratch.
3.Nice design to decorate your bottle, making them felt fashionable all the time.
4."O" shape string can hang your hand, hook, straps of bag. It can'tslip out of pocket because of non-slip mat.
Advantages: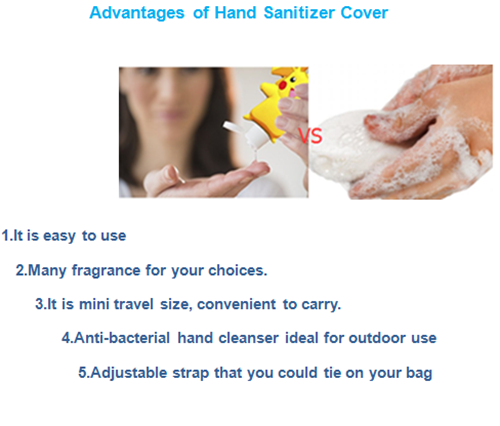 Detail: